We'll Identify The Best Roof Types For Your Columbus Area Property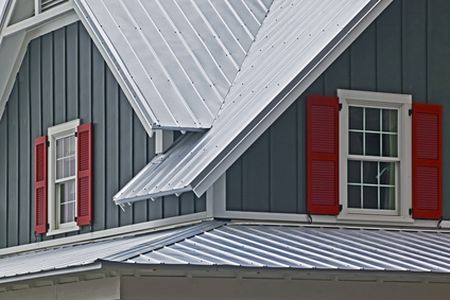 If you can't decide on what type of roofing would work best for your Lancaster property, your #1 roofing contractor in Lancaster is happy to help you decide! Exterior Improvements offers a variety of roof types to residential and commercial clients in Lancaster.
Whether you're looking for the ultimate in protection, functional beauty, or both, we've got roof types that can meet your needs. Read more about the roof types that we offer below.
Asphalt Shingles
Asphalt shingles are popular with homeowners and business owners alike, and it's easy to see why. These shingles are both beautiful and protective, typically standing up to the elements for years to come. A roof shingled with asphalt shingles needs very little upkeep to maintain it. As your leading Lancaster roofing contractor, we are thrilled to be able to offer asphalt shingles as one of our roof types.
Metal Roofing
Metal roofing is quickly becoming the most popular choice of roof types for residential and commercial clients alike. This type of roofing is very striking, energy-efficient, and offers a great deal of protection from the elements. If treated right, metal roofing can last for decades! Metal roofing isn't always the most cost-effective, but the protection it offers is well worth what you pay for it.
Rubber Roofing
Rubber roofing is rising in popularity due to its durability and reputation as the go-to "green" roofing option. It's the most long-lasting of many roof types, and repairs for a rubber roof are easy to accomplish. This recyclable roof type is very easy to maintain - often only requiring a coat of paint every 10 to 12 years - and fire-resistant, making it a safe roofing option. If you're interested in more of the benefits of rubber roofing, give us a call today.
Need a new roof? Contact a Columbus area roofing contractor today