Professionals To Help With The Gutters On Columbus Area Home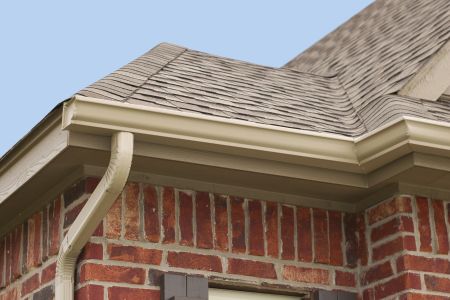 When you need help with your gutters, the top roofing contractor in Lancaster is the best choice. Exterior Improvements is the #1 Lancaster roofing contractor to call when you need help with your gutters.
Gutter Company
Your top-rated Lancaster roofing contractor is also your #1 Lancaster gutter company! In addition to roofing services, such as roof replacement, we are happy to offer a variety of gutter services for commercial and residential clients. Our friendly roofing pros are happy to help you with replacing your gutters, or installing seamless gutters on your home or commercial building. Read below to learn about some of the ways we can help with your gutters.
Gutter Replacement
We are happy to offer gutter replacement services that you can rely on! When your gutters begin to wear out, simple cleaning and maintenance won't do and they'll need to be replaced. Our pros work hard to install gutters that will boost your curb appeal and last for years. When you call our pros to replace your gutters, we guarantee results you'll love.
Seamless Gutters
For residential clients, we specialize in the installation of premium seamless gutters. Seamless gutters are specially made and built to last, and provide more protection and flow than regular sectional gutters. Our seamless gutters are made out of quality aluminum metal and are stronger and longer-lasting than typical sectionals. If you'd like to learn more about our seamless gutter systems, contact us to speak with one of our pros today.
Need a new roof? Contact a Columbus area roofing contractor today