Vinyl Siding Is Available In A Range Of Styles And Colors For Your Columbus Area Home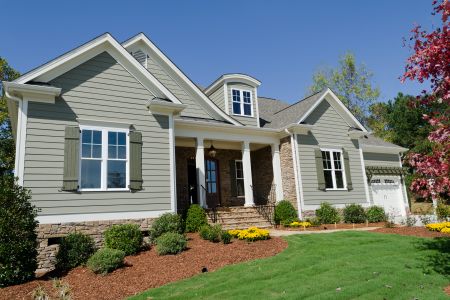 Are you looking for a reliable roofing contractor to install vinyl siding on your Lancaster property? Exterior Improvements is the #1 choice for vinyl siding installation in Lancaster.
Vinyl siding can mimic the look of other natural materials, such as wood or stone, but is far more protective and versatile. Like aluminum siding, vinyl siding features many benefits, including:
A striking look that lends curb appeal.
Ease of cleaning and maintenance.
Excellent insulation year-round.
Vinyl Siding Is A Fine Choice For Any Property Type
As the #1 Lancaster roofing contractor, we are happy to be your leading choice for vinyl siding installation. Vinyl siding is a very fine choice for any Lancaster property, and immediately lends a classy look. It's also very durable, holding up to elements such as:
Heavy adverse weather and storms.
A variety of climates (dry/moist/hot/cold).
If you're interested in having vinyl siding installed at your Lancaster property, feel free to call us today. Our pros are happy to provide an expert consultation to discover your needs and help you achieve the look you're seeking for your property.
Need a new roof? Contact a Columbus area roofing contractor today